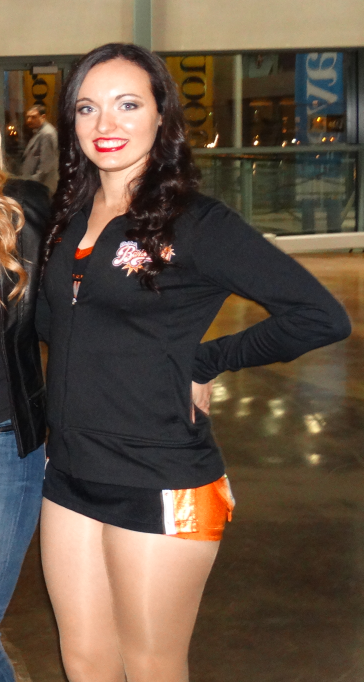 This week, we start off our 2015 Bandette of The Week series with 4th year vet Lauren K. The writer for the Buffalo Dance Examiner and dance instructor is adding a new job to her resume in 2015, that of Buffalo Bandettes captain!
After conducting interviews with such stars as Vanessa Williams, Marlon Wayans, and Dancing With The Stars' Sasha Farber, her writing career is just getting started and she's planning on writing a book or two before long as well. She says her favorite foods are pretzels, peanut butter, and pizza which makes me wonder if she cares for Pizza Hut's new pretzel crust?
Lauren has been dancing since the age of 3, and maybe a little bit before that even and getting to dance on the pro level as a member of the NLL's premier dance squad is a dream come true for her, especially when you consider she's been going to Bandits games since she was in elementary school.
You can read more about Lauren at
http://www.bandits.com/bbio.asp?bandID=LaurenK
Lauren's secondary photo comes from the Bandits Open Practice after the squad's 1st performance and features members of the line that Lauren is the captain of this season. Shown from left to right are LaToya, Lauren, Syidah, Stephanie, Abby, and Cheri.
Lauren and Stephanie's line
From the Buffalo Jills comes a photo from the 2011 Buffalo Jills Golf Tournament. On occasion, relatives join pro cheerleading squads together, like in this case. Pictured are two young ladies who joined the squad as rookies in 2011. Briana and Jessica are just such an example. The two of them have always been close and when Jessica decided to try out, Briana was the only family member she told...in case she didn't make it, disappointing their whole family. Briana decided to try out with her and, as luck would have it, they both made the squad!
Briana and Jessica