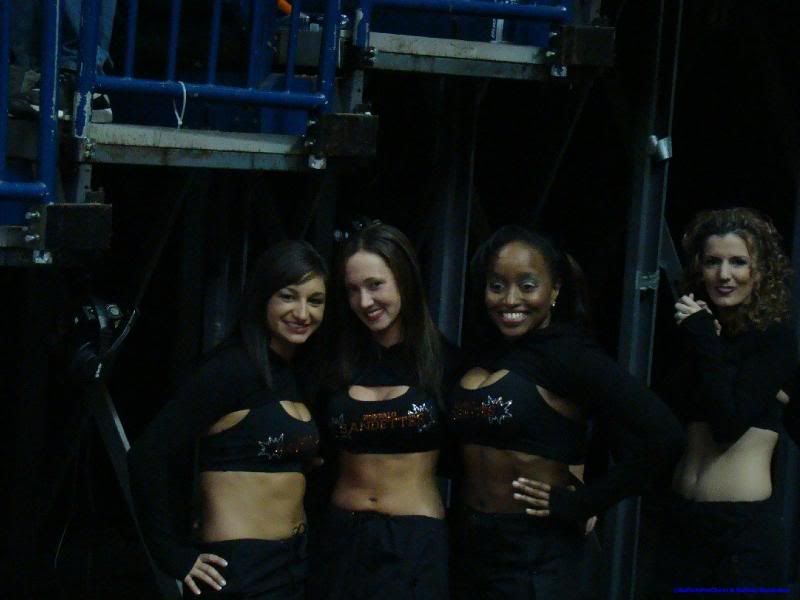 In the NLL, there are few rivalries that come close to matching the intensity of the Buffalo-Rochester rivalry. In January, the Bandits crushed the visiting Knighthawks by a score of 23-6. In March, Rochester came out on top by a 15-14 score in OT, setting up a rubber match in April back in Buffalo's HSBC Arena. When last at home, the Bandits fell to New York thanks mostly to the stellar goaltending of Titans goalie Matt Vinc, who stopped 50 of 59 shots on goal. This time around, it was Bandits goalie Ken Montour who controlled the game, stopping 52 of 61 shots in a 13-9 Bandits win in front of 17,118 fans in HSBC Arena. This game guaranteed the Bandits a home playoff game the weekend of May 1-3.
Prior to the game, the Bandettes hosted a long line of fans clamoring for the 2nd Bandettes poster of the season. The supply on hand was exhausted even before 7pm, leaving many fans in the hope that there'd be more next week as the Bandits finish off the regular season against the expansion Boston Blazers. During the game, the Bandettes got a lot of love from the fans and 103.3 The Edge's Rich Gaenzler, who was filling in for game announcer Chris Swenson and their performances at intermissions and during the game proved how worthy they were of that love. Afterwards, some of the squad retired to Pearl Street Grill and Brewery for the Official Bandits Post Game party where they had a well-deserved dinner and signed a few autographs and posed for pictures.
http://s17.photobucket.com/albums/b87/bandettes/2009/Knighthawks2/
Next up, after the Bandits road trip to NYC on April 11th, the regular season concludes on April 18th with a matchup against the surprising Boston Blazers expansion team, currently in 2nd place in the Eastern division.
Also, stay tuned as, thanks to the efforts of the fans, the NLL's next Girl of The Week is rookie Bandette Kirsten. We should see an article posted no later than Tuesday.