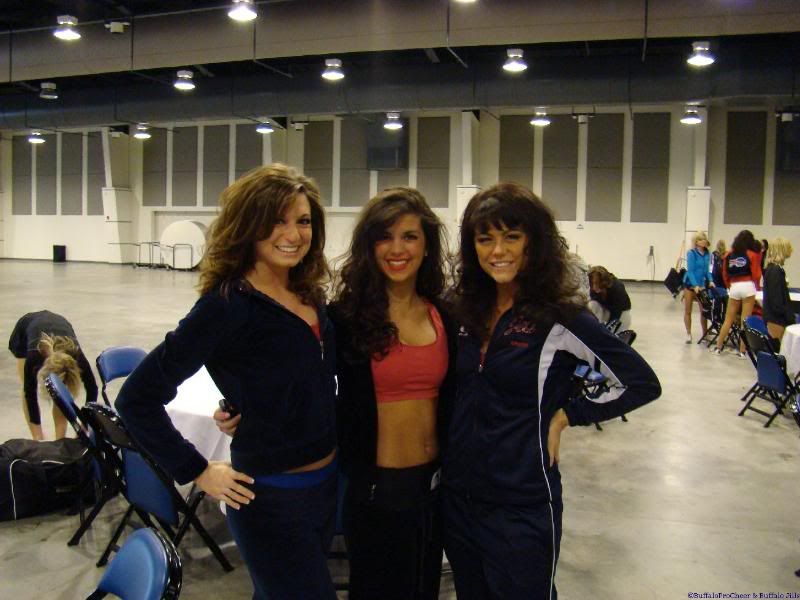 A nerve-wracking process reached its summit Saturday at the Conference Center of Niagara Falls as a crop of nearly 100 hopefuls looked to join Omarlla, Eileen, Christina, Keisha, and Amanda as members of the 2010 Buffalo Jills. Ambassadors were brought onstage to show off their physique and answer some questions from 97Rock's own DJ Jickster and dancers performed a routine they learned in the last week to 1 of 3 random songs. It was the same routine no matter the song but the girls didn't know beforehand which of the 3 preselected songs they'd perform to. Family members, friends, and fans came to root on their favorite girls and a number of girls, including some rookies, got big reactions from the fans in the audience as they finished their routines. Unfortunately, the whole process is about making some tough choices on who to keep and who not to and the group of girls was narrowed down to 51 hopefuls, a group that will be cut down even further over the next week and a half until the final roster is selected. 
See the photos and a lot of videos of the tryouts at http://s15.photobucket.com/albums/a375/buffalojills2005/2010/1st%20cuts/ and don't miss the photos of Brian Garman, the official Jills Photographer, at http://www.97rock.com/Article.asp?id=1740135 where he has a number of photos from Thursday's voluntary workshop as well as 1st cuts.
Also, a reminder to the girls on the remaining tryout dates. Tuesday's tryouts are for dancers only at Fusion Dance Studio on Kenmore Ave at 7pm...arrive early. Thursday's cuts are for non-vets...an interview session (business attire). The vets completed their interviews previously so alumni are included in this session...it's not a case where only rookies get interviewed. These interviews will take place at Citadel Studios at 50 James E Casey Dr in Buffalo at 6:30pm. Final Cuts are still March 30 at Citadel Studios in interview/business attire. The final team will be selected then. Good luck to all vets, alumni, and rookies alike the rest of the way.