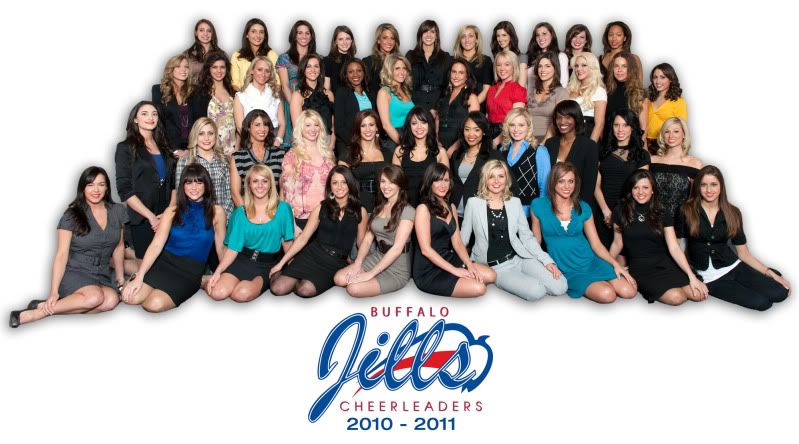 Here's the 1st team photo of the new 44-girl squad after a tough tryout process. Let's give a run-down of who we have.
11th season-captains Omarlla and Eileen
6th season-Katie
5th season-captain Christina, Valerie, Stefanie
4th season-Jess, Angelina, co-captain Amanda F, Lisa, captain Keisha, Vincenza, Laura, Brianne
3rd season-Jackie, Murissa, Anna, Kaitlin, Michelle
2nd season-Kristen, Kelly, Loren, Courteney, Gabrielle, Ruby, Alyssa, Lindsay, Nicole
rookies-Amanda V, Caitlyn, Danielle, Emily, Gina, Jaclyn, Jessica W, Jill, Lindsey, Meghan, Morgan, Natalie, Sara J, Sara S, Taryn, and Jen G
A couple notes
Brianne spent the 2005-07 seasons dancing on Omarlla's line before taking the last 2 seasons off
Kristen and Nicole were rookie ambassadors last year and made the switch to the dance squad this year
Vincenza, originally an ambassador, spent last season as a dancer and moves back to the ambassador squad this season
We already reported on the draft party appearances yesterday but we also have 2 major events to bring up today. Last September, the Jills held an Open Practice in the Fieldhouse in which young ladies could learn a routine from the Jills. The event turned out to be a bigger success than hoped for and this year's Open Practice is scheduled for June 1 from 6:30-8:30pm. Cost is $5 for participants and $3 for spectators. Get all the details at
http://buffalojills.net/appearances/details.php?recordID=88
and you can see photos and videos from last year's event at
http://s15.photobucket.com/albums/a375/buffalojills2005/2009/Open%20Practice/
Finally, the 8th Annual Buffalo Jills Golf Tournament will be held Monday, August 2nd at Westwood Country Club in Williamsville, NY. That's all we have at the moment on that event but at least it gives everyone plenty of opportunity to get the day off and maybe even go get a look at the course you'll be playing this summer.