Jessica and Courteney next to the Jills display in the Fieldhouse
Thanksgiving weekend in Buffalo saw a sold-out crowd at the Ralph for a matchup between the Buffalo Bills and the Pittsburgh Steelers. While the crowd wasn't your typical Buffalo crowd with a large contingent of Steelers faithful who were able to help spur their team on to victory in overtime, there was one thing the Bills had going for them in this matchup against what was regarded as a far superior team. The Buffalo Jills welcomed back 4 of their girls to full active duty. Jaclyn and Danielle haven't been on the sidelines for the last month and a half outside of Danielle's appearance in the halftime show in Toronto. Jaclyn's return was a special one as she's been recovering from a broken wrist suffered in practice and, considering she went to college in Pittsburgh, had a lot of extra friends there to watch her return. Lindsey, on the other hand, hasn't missed any time on the sidelines, but a hamstring pull has kept her out of the bigger performances until now. Morgan and Reena have also missed a significant amount of time in pregame performances as well. For this fan, seeing the return of these five wonderful rookies to full active duty made up for the loss of the game in a small way.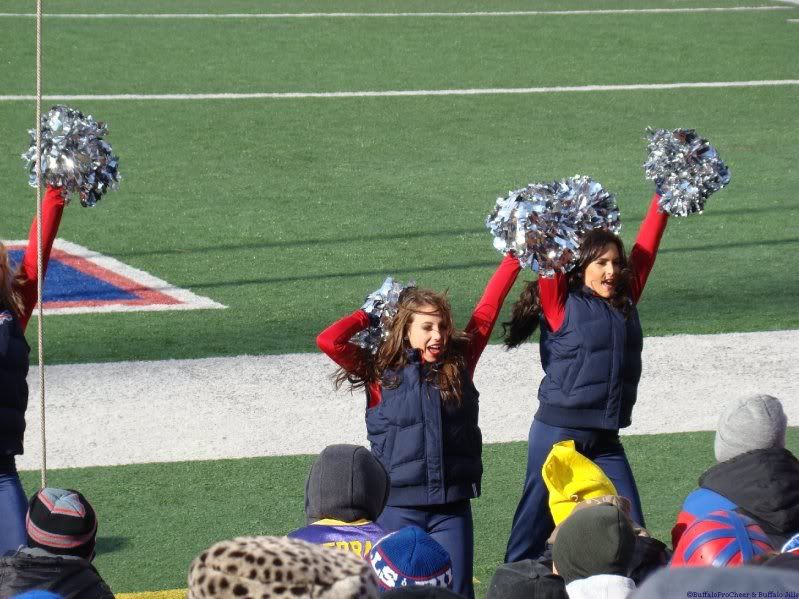 Jill and Danielle performing in the 1st quarter
Kelly, Jaclyn, Lindsey, and Omarlla cheering in the 3rd quarter
Coming up next, the Jills will have 8 of their dancers in Iraq for the next week and a half as Katie, Lisa, Murissa, Kelly, Loren, Kristen, Gabrielle, and Jill visit and entertain the troops where everyone there will fall in love with these young ladies the way we have here in Western NY. And just like us, they'll be amazed with Jill's gymnastic abilities.
This Saturday, while their squadmates are in Iraq, the rest of the Jills will be holding their 4th Annual Fundraiser at SoHo from 7-9:30pm. The $20 ticket gets you all-you-can-eat on pizza, beer, and wine-tasting and also includes plenty of raffles to get in on and entertainment by the Buffalo Jills.
The Jills next take the field on December 12th as the Bills host their rivals from across Lake Erie, the Cleveland Browns. Make sure to stop by Lot C at 11:30 to see the Jills dancers perform.