Bills WR Stevie Johnson with Laura
Tuesday is generally a day off for NFL players but Ralph Wilson Stadium was a busy place this week with 2 big events going on. First up was a blood drive by the American Red Cross and donors got to do more than give blood as they were treated to tours of the stadium and locker rooms as well meeting Bills players and members of the Buffalo Jills.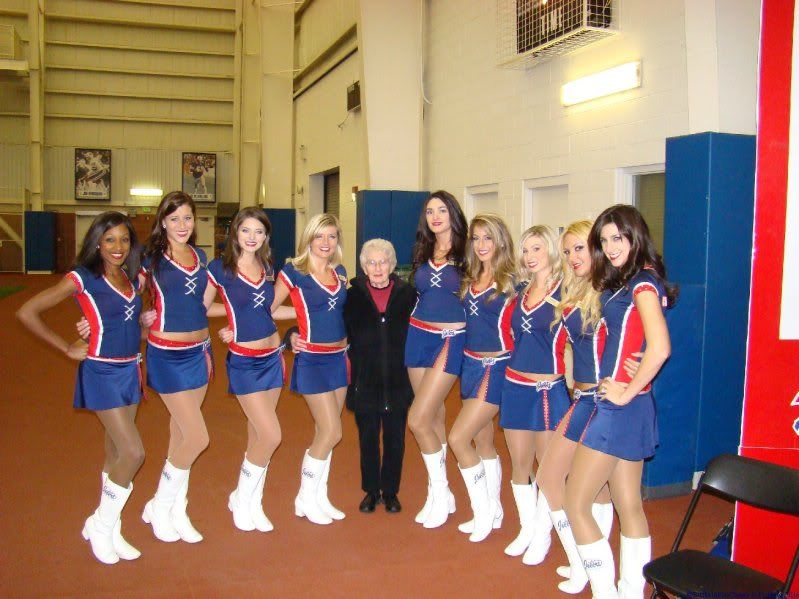 The Jills Ambassadors with one of the original Buffalo Jills
In the evening, the Buffalo Jills squad hosted an Open Practice in which they showed the next generation of cheerleaders how to do a few NFL-style cheers before putting on a demonstration of a pair of gameday performances for the attendees of the event. They even had a number of special guests as the Alden High Cheerleaders were in attendance and performed one of their own routines for everyone. In addition, a pair of Jills alumni were on hand as well, including a member of the original Buffalo Jills squad as well as Eileen's original Jills captain Dina.
2000 squadmates Eileen, Dina, Omarlla, and Nichole
Loren, Lisa, and Kelly working on their performance for the troops
There was also a little extra going on on the far end of the Fieldhouse as some of the Jills dancers worked on some special performances. Over the bye week, there was a trip planned to Iraq for some of the Jills to visit the troops that fell through because of funding. Some of the girls who had planned to go on that trip were especially devastated but luckily, the production company got some more funding and the Jills will get to go on their trip following the Bills' next home game.
Coming up next for the Jills, they'll be back at the Ralph Thanksgiving weekend as the Bills host the Steelers and making Steelers fans wish they still had cheerleaders as they put their beautiful smiles and dancing abilities on display for a sell-out crowd. Don't forget to swing by the Shredd and Ragan Tailgate Party in Lot C at 11:30 to see members of the Buffalo Jills dancers put on a special pregame performance.
Make sure your evening schedule is free on December 4 as the Jills take over SoHo on the Chip Strip from 7-9:30 for their annual Fundraiser. $20 gets you in the door for beer, pizza, wine-tasting as well as plenty of raffles and the chance to mingle with the Buffalo Jills. You can get your tickets from the Jills at the next home game or at the door.