First up are some more photos from Saturday night's Jills Comedy Show. As many fans know, FCI Photography was the official photographers of the Buffalo Jills for several years. Well, after a 1-year hiatus, they're back on the job with the Jills and were also on-hand Saturday night and took a lot of photos as well. Check them all out at
http://fciphotography.smugmug.com/Buffalo-Jills/Jills-2011-events/Jills-Comedy-night/15672593_myn2g#1174700932_8XTPi-A-LB
After the Comedy Show, I myself went downtown to visit with the Studio 54 dance band who, as many of you already know, used to have a Buffalo Jill as the lead singer. Well, the current lead singer is also into acting as well and occasionally, Ashlee fills in for her with the band. This past weekend, Ashley Kate was playing the role of Cheryl in "The Taffetas" and is also slated to play the role of Lucy in a production of "Jekyll & Hyde" in late March. So Ashlee was ready, willing, and able to fill in for her both in Lockport Friday night and at the Shadow Lounge Saturday night. Check out all the pics at
http://s15.photobucket.com/albums/a375/buffalojills2005/2010/Ashlee%20with%20Studio%2054-2/
Also, make sure to visit
http://www.studio54band.com/home
to learn more about the band, see showdates, and even get a little extra info on when Ashley Kate is on stage as Lucy in March.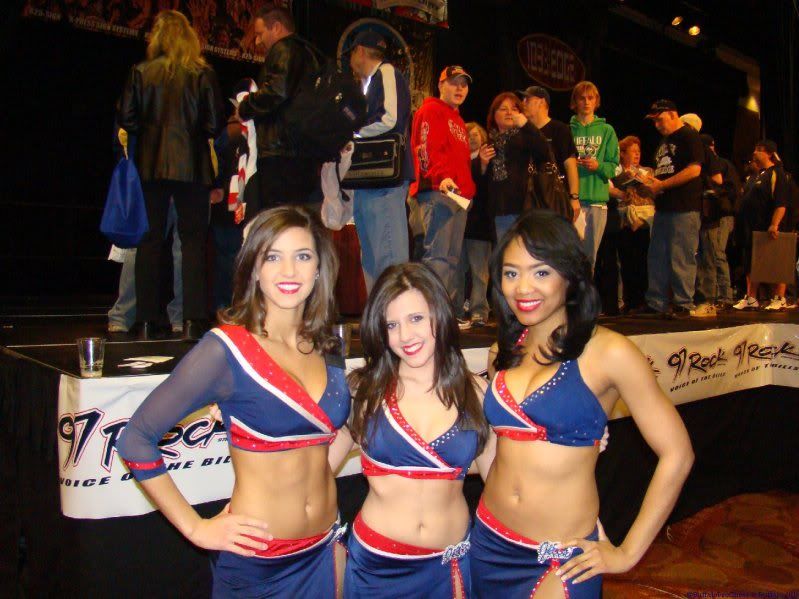 Finally, the spring of 2008 was the beginning of one of the biggest non-sporting event to hit the area since Wingfest was founded...the Buffalo Men's Show! Sponsored in part by Jills primary sponsor 97Rock, the Jills will once again be in attendance at the March 27th event to be held at Seneca Niagara Events Center in Niagara Falls, NY. In addition to the Jills, who will be there putting on a big dance performance, there's always plenty of celebrities, models, and all sorts of neat gadgets and toys to check out like big electronics items, ATVs, snowmobiles and the like. Last year's event included Thurman Thomas, Andre Reed, Ruben Brown, and Mark Steenhuis as well as local model Jessica Daniels who landed the cover of the current Bikini USA calendar. Tickets go on sale on February 7th and more celebrities are joining the current line-up that can be found at
http://www.97rock.com/Article.asp?id=2092619&spid=
Stay tuned to 97Rock and the Buffalo Pro Cheer Blog for more info on the 3rd Annual Buffalo Men's Show!