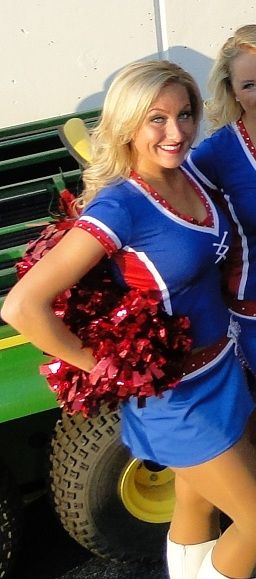 This week, we take a look at 3rd year vet Amanda V as our Buffalo Jill of The Week. Anchoring one end of Christina's line next to Lindsey C, this future attorney is known to be kind of a lead foot when it comes to driving. Thankfully that lead foot only exists in the car as she's been dancing for several years and has even travelled some of the country as a dance and cheer intructor. Amanda is the type of girl who seems to be always on the go. She loves staying busy and has a hard time getting bored with all the activities that she likes to do. You can read more about Amanda at
http://buffalojills.com/profile.php?PID=49
. Amanda's secondary photo comes from the late September game against New England and was taken while the Jills were in Stampede Row waving to the fans before the Bills came onto the field. Shown in this photo are Christina, Nicole L, and Amanda V.
Christina, Nicole L, and Amanda V in Stampede Row vs Pats*
Meet Amanda in this short video taken at 1st cuts with intro by Jills choreographer Kelli Wagner.
Wearing matching outfits, 3rd year vets Gina and Amanda V performed together at 1st cuts and both looked outstanding in them doing their routine.
Jessica, Amanda T, and Chrissy
From the Bandettes comes a photo taken at last year's Bandits Open Practice. In this photo taken after the Bandettes performed for the crowd, we have Jessica, Amanda, and Chrissy posing for a photo. This year's Open Practice will be held late in December, your first chance to see these 3 ladies along with the rest of the 2013 Buffalo Bandettes perform as a unit!