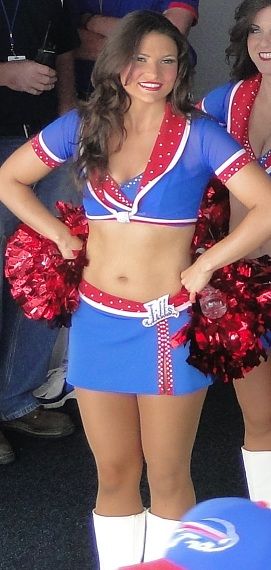 This week, we go back to the vets in our Buffalo Jill of The Week series with 2nd year vet dancer Kristina. Anchoring one end of Valerie's line next to Maria, she's the girl the rest of the squad would go to if they want to know anything about the food they're eating or staying in shape. She finished up college this past spring with a Master's degree in Nutrition after already getting her bachelor's degree in Exercise Science. Now that she's in the work force, she's already looking forward to getting to take some big vacations. She's already been to Paris and plans on Italy next in her tour of the world. You can read more about Kristina at
http://buffalojills.com/profile.php?PID=81
Kristina's secondary photo is a sideline shot from the Home Opener and features Kristina, Kelsey H, and Jacki as they look towards some action going on in the endzone area.
Kristina, Kelsey H, and Jacki during Home Opener
Meet Kristina in this short intro video from 1st cuts with commentary from Jills choreographer Kelli Wagner.
Some girls make sure they get to try out together but Kristina went by the luck of the draw and wound up trying out alongside eventual squadmate Jayanti at 1st cuts.
Chrissy, Stephanie O, and Jessica
From the Bandettes comes a photo taken at the Bandits-Stealth game and was taken while the girls were waiting to head out for pregame. Shown posing for the camera are three of the most stunning blondes the Buffalo Pro Cheer Blog covers...3rd year vet Chrissy, 2nd year vet Stephanie O, and 3rd year vet Jessica.