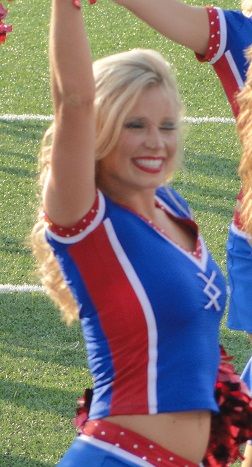 We start off our 2013-14 Buffalo Jill of The Week series with 8-year vet Christina. It's hard to believe she's in her 8th season as I still recall when she was a wide-eyed rookie. When I say a wide-eyed rookie that's just a phrase because she was definitely not wide-eyed as she was almost like a vet at times even back then. Over the seasons, she became the face of the Buffalo Jills, even more than Omarlla. The reason for that is her communications degree, which put her at the forefront in past years when the Bills did features on Jills tryouts. She even interned at Channel 4 during the 2008 season, a year after working with Ch 4 anchor Victoria Hong on a feature she was doing.
To say her Jills career has been impressive would be understating the obvious. She's been to Miami Beach twice representing the Jills, first as part of a group following her rookie year in a competition with other NFL Cheerleaders, and then again at the end of the 2009 season in the Pro Bowl the year it was held in Miami. She landed the cover of the Jills 2010-2011 Swimsuit Calendar and when the end of the year has come around, she's been the one putting together end-of-season DVDs for the girls on the squad with videos and photos from the Buffalo Pro Cheer Blog as well as photos from Fisher Creative Image Photography. Take a look at more of Christina at
https://buffaloprocheerbuffalojills.shutterfly.com/jillsindividualpics/6362
Christina's secondary photo comes from the Vikings preseason game and is a line shot taken midway through the game. Shown posing for the photo are Megan, Shelby H, Melissa, Hannah, Christina, Taylor, Myesha, and Kristina.
Line shot of Christina's line
From the Bandettes comes a photo from the season finale vs the Knighthawks. In 2014, the Bandits host the reigning NLL Champs on January 25th and on April 26th. Shown performing in the 2nd quarter are Chrissy, Chelsea, and Danielle.
Chrissy, Chelsea, and Danielle