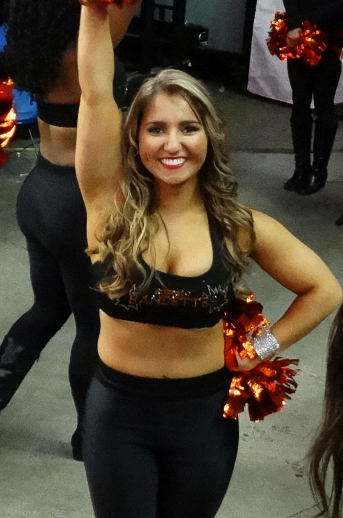 This week, we begin taking a look at the rookies in our Bandette of The Week series and launching it off will be Sarah, who dances on Stephanie's line on gamedays. She chose to try out after being enthralled by the Bandettes' dancing over the years and jumped at the opportunity to join in the excitement. In truth, perhaps a college job may have helped her fit in as a Bandette more than anything as she spent some time working at Disney World. As most longtime readers are well aware, there is definitely a big Disney connection to the Bandettes as long-time coach Erin Y is perhaps Western New York's biggest Disney fan and former captain Meghan F is a travel agent working with Disney. In any event, Sarah is loving the friendships she's building on the squad and how it's affecting her life as a whole. This past week has been perhaps her favorite part so far as being a positive influence on children is a big deal to her and she probably got to do that more this past week, working with the Junior Bandettes, than at any other time thus far. As much as she's loving all the time spent as a Bandette, I have a strong hunch she's glad there are no home games in the final weekend in February so she can spend some time glued to Netflix for the release of Fuller House, the upcoming sequel to her all-time favorite show. Sarah's secondary photo is from the recent game against the Toronto Rock. Shown cheering on a Dhane Smith goal late in the 2nd quarter are MaKenzie, Sarah, and Jessica.
MaKenzie, Sarah, and Jessica
From the Jills comes a photo from the Tailgate Warriors set in Lot C before the 2009 preseason game against Chicago. Several of the Jills made appearances throughout the day and we got some photos with some of the local celebrities on hand for the show. Shown posing for this photo are Ayeshia, Keisha, Kelly Ann, and Kristen with famed Wing King Drew Cerza.
Ayeshia, Keisha, Wing King Drew Cerza, Kelly Ann, and Kristen