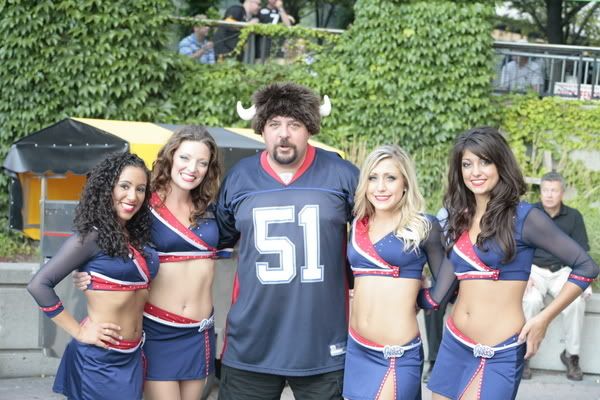 As many already know, the Bills are sending 8 of their home games to Toronto over the next 5 seasons in an effort to attract more premium seat holders from the Toronto market to come down to Ralph Wilson Stadium in Orchard Park. The first of these games was a preseason tilt against the Pittsburgh Steelers on Thursday night. The Bills came out on top in the matchup thanks to a pair of Edwards-to-Royal touchdowns and a 95-yard kickoff return by rookie CB Leodis McKelvin.
The Toronto experience, according to many diehard fans who made the trek, was rather lacking due to things like cost and the lack of a real football atmosphere. However, one aspect that wasn't lacking was the appearance of the Buffalo Jills. 48 young women make up the squad this year with 23 rookies joining 25 vets and fans were snapping photos of the First Ladies of Buffalo Wednesday night and Thursday before and during the game. I myself wasn't able to make the trek due mostly to a lack of enough vacation time but a friend of mine, the founder of
BuffaloBillsInsider
, was on hand and took a few pics of the beautiful Jills, including a pic before the game posing with Amelina, Dr. Amanda, Jackie, and Alecia.