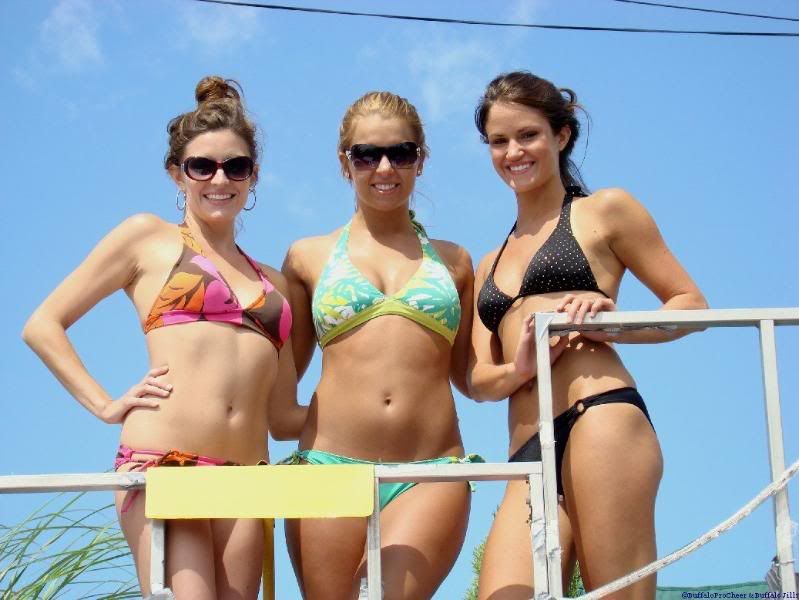 A word of warning guys. When, not if, you get this new calendar, put it somewhere far away from anything flammable. It might not be a bad idea to get some kind of fire-proof glass case to display it in because quite frankly, the Jills and FCI Photography outdid themselves on this calendar. It goes beyond hot as it features 48 gorgeous young women in sexy swimwear in photos taken not only on a cruise through the Caribbean to locales like Grand Cayman Island as well as a lot of beautiful shots taken in Western New York. Featured in these shots are places like Old Fort Niagara in Youngstown, Green Lake in Orchard Park, Burchfield Park in West Seneca, Woodlawn Beach State Park, Harley-Davidson of Orchard Park, and Angola's prime hot spot, Captain Kidd's and Mickey Rat's Beach. Obviously you're wondering where to get these calendars and anyone can get them no matter where you are. At the games, you can stop in the Fieldhouse or by the 97Rock or 103.3 The Edge tailgate parties and purchase one (or more) from one of the stunning members of the Jills Ambassador Squad. If you know of a Jills appearance coming up, don't refrain from stopping by as you can pick one up from any of the Jills dancers or ambassadors in attendance. These two methods would definitely be the preferred way of getting one as the Jills not only get commission on each calendar they sell, but you can get them autographed on the spot by these beauties as well. Short of that, they'll also be available in the Bills store and if you're unable to make it there or to any Jills appearance, there's one other way to get them. Visit
http://www.buffalojills.net/calendar.html
for complete details on mail and phone orders. The calendars sell for $15 and shipping, if going the mail and phone order route, is an additional $2.50.
Quite honestly, I'd be stunned if these aren't practically sold out by mid-November because even I was blown away by the photos. Like the natural beauty of Niagara Falls that Western New Yorkers can take for granted, I'll admit that, at times, I can take the beauty of these young ladies for granted to an extent. I guess it's like when you have a close friend or even a sister who just happens to be breathtakingly beautiful. You know they're hot, but you know them for what kind of people they are as opposed to knowing them for their looks. Well, while my personal opinion of the type of people these girls are will never change nor will my professionalism, these shots really opened my eyes to how beautiful these girls are..something I have noticed but never thought much about. I'm not going to go into detail about every girl who blew me away with her photo because that would take forever. But the cover of this calendar really blew me away because Vincenza is someone I've always thought of as a cutie with a warm demeanor, sweet friendly smile, and a fun personality...cutie is a vast understatement.
Anyway, this isn't a post just to talk about the calendar but to announce a few pics taken at America's Fair in Hamburg, NY. Hey, if the Cowboys can call themselves "America's Team," then Erie County can label its fair as America's Fair. And considering this fair includes some appearances from time to time from the beautiful Buffalo Jills, I think its a fair name for it. On the next-to-last day of this year's fair, the 97Rock booth got some serious attention thanks to Dr. Amanda, Jill R, and Liz of the Buffalo Jills, who were up on top of the Frey Electric bus catching some rays in their bikinis as well as watching the fair-goers.
Coming up for the Jills is the Kid's Day preseason game on August 28th at Ralph Wilson Stadium. Kickoff is at 6:30 so the lots will be open at 1:30 and in addition to the expected Kid's Day festivities, we'll see the Jills bring the Jr. Jills on field for a performance as the Bills finish up the preseason against the Detroit Lions.
Also, don't forget that the fundraiser for the 2009 Jills Calendar trip takes place at SoHo on Chippewa September 27th at 9pm. Tickets are $20 each and cover all-you-can eat pizza, wings, beer, and wine til midnight. And the best part is the company...48 of the hottest women in the region.