This will be the final edition of the Pictures of The Week for the 2008 offseason as we start up the Jill of The Week feature next week with pictures and info of the 48 members of the 2008-09 Buffalo Jills. This week's Jills photo comes direct from Jills Director Stephanie M and features the women who guide the Jills through their training, their responsibilities, and on gamedays.
On the left, we have the Jills choreographer Kelli Wagner. Kelli took her current job with the Jills in 2002 and does more than turn heads at the Ralph on gamedays. She has successfully grown the Junior Jills organization into a coveted program for youth in Western New York and it's surrounding areas. Kelli's choreography has also been featured on Fox TV, ABC-Buffalo, several Buffalo radio station events, many community events, overseas military shows, as well as HSBC Arena-Buffalo. Kelli is the three time recipient of America's Young Choreographer of the Year and has received numerous choreography and high score awards. In the middle is Jills Director Stephanie Mateczun and Steph spent a number of years on the sideline herself before taking the reins as Jills Director in 2002. Since then, the Jills have added on the Ambassador Squad, gotten more national positive recognition, many more appearance requests, and the Jills Swimsuit Calendar now includes every member of the squad. Other squads, even with their smaller numbers, only include a part of the squad on their calendars. Nichole Becker, on the right, is in her 3rd season as the coordinator after cheering through the 2000-2005 seasons, along with rookie squadmates Omarlla and Eileen. It was a new position created because of all the extra work that goes into the squad the past several years. Nichole was actually already performing some of the duties of coordinator her last few seasons as captain but the increased popularity and exposure of the squad caused the position of coordinator to become a full-time one.
From the Bandettes, we have a pic taken near the end of the 3rd quarter of the first game against the Minnesota Swarm. Incidentally, home games against the Swarm will be fewer and farther between as the NLL recently announced that Minnesota would be moving to the NLL's West Division. But I digress. This picture, taken just before the squad went out on the floor for their 3rd intermission routine, features Bandettes co-captains Melissa and Meghan with rookie Justina smiling for the camera. The smiles may have been from the way the game was going. After falling behind 9-6 at the half, the Bandits poured on 5 goals to none in the 3rd to hold an 11-9 lead at the time this picture was taken.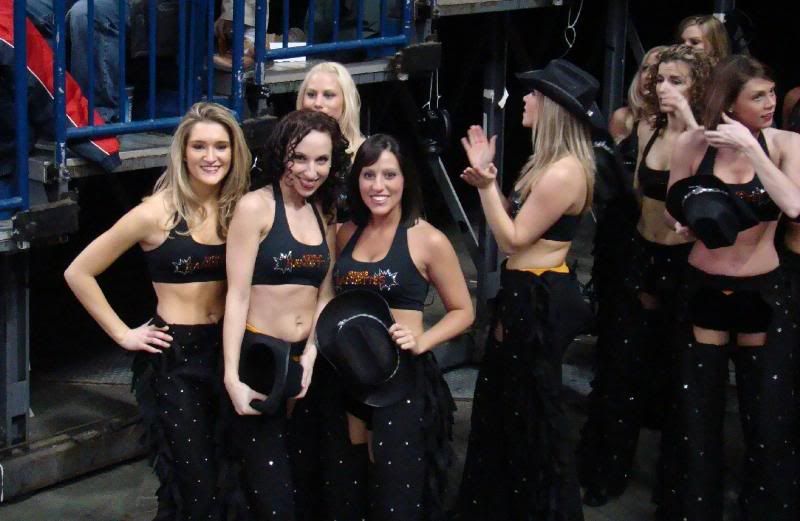 Continuing our look into the past at the Buffalo Bombshells, we see current Buffalo Bandette Korinne in a pic from the 2002 AFL season.