This week, our first Jills photo comes to us from this past April's Congratulatory Party, held at Club Paradise in Blasdell. Club Paradise will also be the site of the Swimsuit Calendar Release Party on October 25th so if you haven't already marked it on your calendars, don't hesitate to do so. In this first shot, we see Tiffany, Jenica, and Jessica L posing for a quick photo. Tiffany is a very engaging girl when it comes to conversation, very friendly and easy to talk to. Jenica is coming off a season in which she was the swimsuit calendar covergirl and also mugged for the camera from the sidelines more than anyone save the departed Amanda P. Jessica, known as Jess to her friends, is always sporting a bright smile and if you're thinking of throwing her off guard with a blonde joke or two, forget it. She's heard them all and has plenty of her own to tell as well. But she's known more for her fun personality than her natural blonde hair.
The second Jills photo comes from the first (annual?) Buffalo Men's Show held at the Agri-Center at the fairgrounds in Hamburg this past May. This was an event that celebrated men with sports stars, electronics toys like big screen TVs and game systems as well as snowmobiles, ATVs, and even replicas of KITT and the General Lee. The best part, though, was the gorgeous women including a Playboy Playmate, the CW23's Lydia, and of course, the Buffalo Jills. In this shot we see Lonna, Omarlla, Valerie, Stephanie BR, and Amelina posing for a quick photo.
With the Bandettes, continuing our look at the NLL Championship Game, we see a shot taken during halftime while waiting for the Bandettes to take the field for their performance. While the other girls were going over dance moves or getting psyched up to get back on the field, some of the girls posed for a quick picture. Here we see Jessica, Ashley, and Justina. Prior to joining the Bandettes, Jessica was in the US Navy while Ashley's face is familiar to longtime Buffalo pro cheerleading fans as she spent the 2002-03 NFL season as a member if the Buffalo Jills. Justina's claim to fame is twofold. She once performed with the Pittsburgh Ballet Company and she's now the self-proclaimed good luck charm for the Bandits so we should see a few more NLL Titles the next few years as long as she sticks around.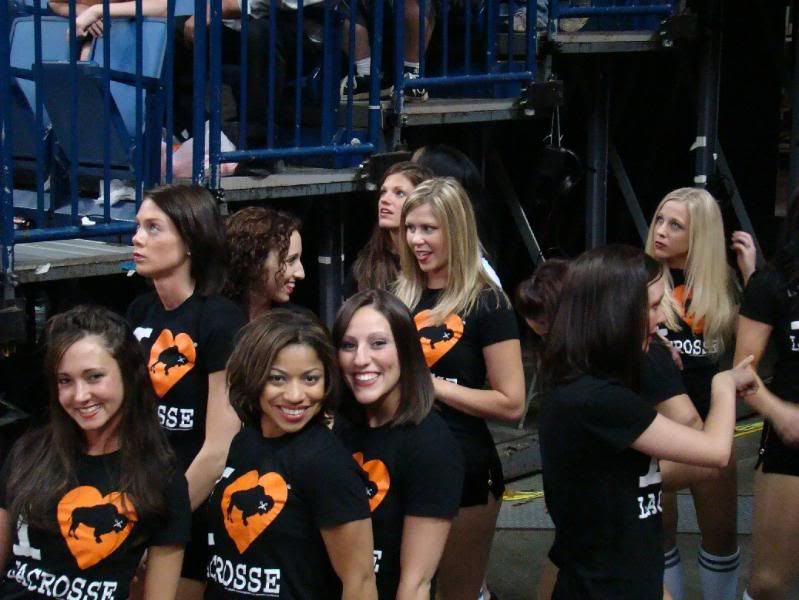 And here's a little blast from the past from the archives. Here's Casey from the Bandettes circa 2002 in her days with the Buffalo Bombshells.