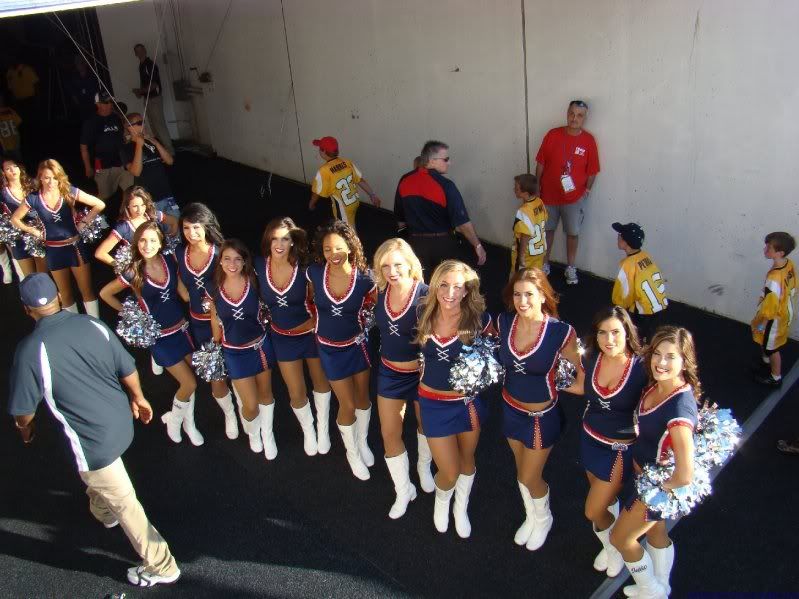 Christina's line
As we wait to get our hands on a copy of the Jills 2010-2011 Calendar, we take a last few weeks at some more photos to get everyone acquainted with the current squad. Last week we looked at the dance lines of 11th year vets Omarlla and Eileen and this week it's time to look at Christina's line. From left to right we have Jen, Anna, Jill, Valerie, Morgan, Christina, Amanda V, Lisa, Danielle, and Gabrielle.
Laura, Amanda F
We couldn't get all of the ambassadors in one spot at the Bengals game but we did get the 2 that drew on-field duty together at halftime. Shown here are 4th year vets Laura and Amanda F. Laura is known as the host of Redfield Redzone on ESPN2, with only 2 episodes left for the season, and Amanda is the lone co-captain on the Jills, as she and Keisha are running the ambassador squad together this season.
Chelsea, Kirsten
From the Bandettes, we have a photo from the 2nd game hosting the Toronto Rock last season, the same team the Bandits face in the home opener on January 22nd. Pictured here before the game as the Bandettes were signing autographs are rookie Chelsea and 2nd year vet Kirsten. Given her love of getting on camera, I would have to imagine Chelsea intends to return and Kirsten, who I ran into this past weekend, has the tryout dates circled on her calendar. October 2nd and 3rd are the dates for anyone who wants to try out for the Bandettes and join these beautiful young ladies dancing at Bandits games this January-May.