With a change at QB, the Bills went into Gillette Stadium today where they've never won and came up short in an exciting game that gave fans hope to see the season at least made respectable with a 38-30 loss to New England. Nowhere were the cheers louder than at the Aud Sports Bar in Depew where Jickster and the Jills were for the 97Rock Away Game party.
Of course, the cheers weren't just for the plays as Michelle and Alyssa of the Jills were there with the new Buffalo Jills Calendar to sell and autograph for the fans. Considering Michelle went through her whole stock of calendars and has to get more, I'd say the calendars were a hit.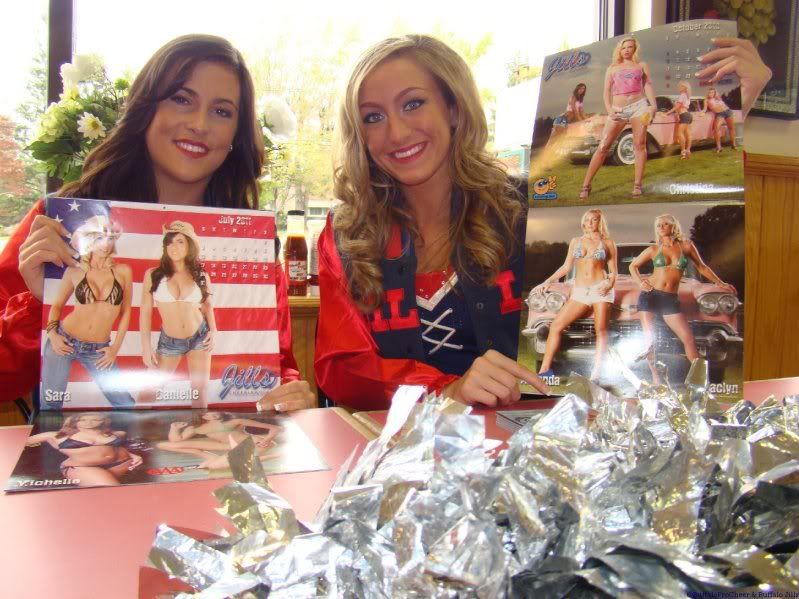 After the game, it was off to Blasdell Pizza where Jills were stationed at 3 locations with their calendars as well. I swung by the location near the stadium myself and got to spend some time with rookie dancers Amanda V and Danielle as they sold some calendars and signed some autographs for the fans.
Next up for the Jills, they're back in action at Ralph Wilson Stadium the next 2 weekends as the Bills host the Jets and then the Jaguars. Don't forget to stop in the Fieldhouse to say hi to a pair of the Jills Ambassadors as well as stop by the 97Rock and 103.3 The Edge Tailgate parties to see more of the Ambassadors and get your calendars before they run out. And don't forget to be there at the Edge Tailgate at 11:30 to see some of the Buffalo Jills dancers perform; a new addition to that tailgate party this season.