Barring any unforeseen delays on the calendar, this should be the last edition of the Photos of The Week this year with the Buffalo Jill of The Week series starting up next week. This week, in regards to the Jills, we're going to tell you about a new feature to your Bills pregame for each home game this season. As most know, 97Rock carries the official Bills pregame show starting at 8am each gameday. At 11:30, an hour and a half before kickoff, 103.3 The Edge joins the broadcast with a slight delay. The Edge's broadcast is synced up with the television broadcast while 97Rock's broadcast is synced up with the live action at the stadium, allowing fans to turn the volume down and listen to the official Bills coverage from Murph and Kelso if they desire.
Before 11:30 though, the Edge's afternoon radio hosts, Shredd and Ragan, are broadcasting live from their new tailgate location in Lot C in front of the stadium behind the scoreboard. When the Edge switches to pregame, a new feature is brought to the tailgate party, one of great interest to fans of the Buffalo Jills. We already know that members of the ambassador squad can be found inside the Fieldhouse and at the 97Rock and 103.3 The Edge tailgate parties...but this year, members of the Buffalo Jills dancers will perform at the Edge tailgate party as well. If you aren't sitting up close as the Jills dance following the 3rd quarter, this is a great chance to see them dance up close as well as get to meet the beautiful and talented dancers and get pictures and autographs as well.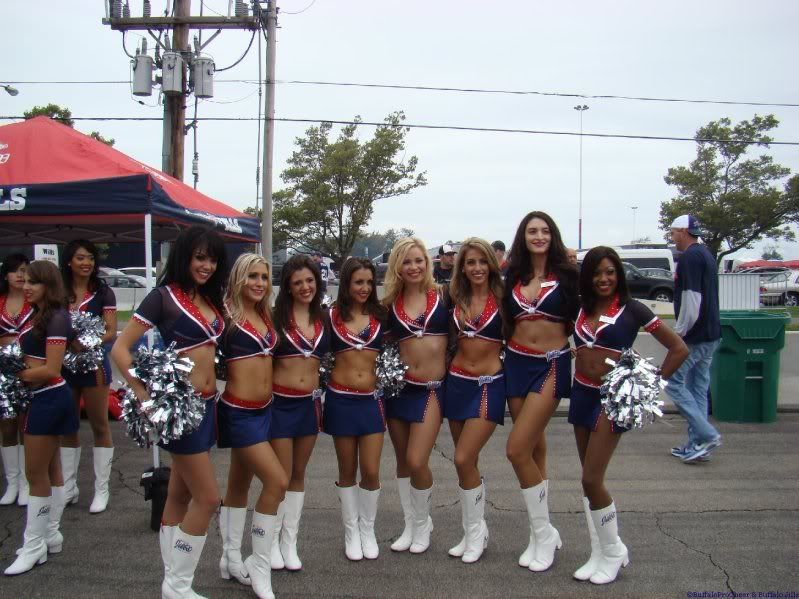 Anna, Jackie, Loren, Natalie, Christina, Gina, Taryn, and Courteney
Laura, Valerie, Angelina, Eileen, Lisa, Katie, Omarlla, and Jill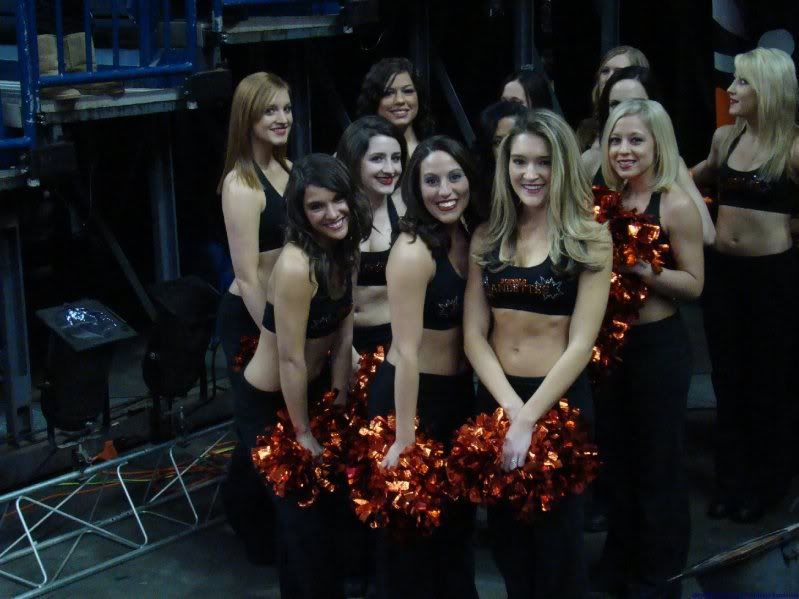 Ashley, Stephanie, Lauren B, Amanda, Justina, Melissa, and Beth
From the Bandettes, we have a photo taken during pregame of the January game against the Minnesota Swarm. Shown smiling for the camera while waiting to take the field for their pregame performance are Ashley, Stephanie, Lauren B, Amanda, Justina, Melissa, and Beth. Amanda is the only one of these young ladies on record as saying she won't be back for 2011, having moved out of the area. Hopefully we'll see the rest of these girls back after tryouts take place October 2nd and 3rd at Gold's Gym in Depew. Everyone but the captains have to try out but even if all the vets make it back, there's at least 4 spots up for grabs.