The April 16th game between the Buffalo Bandits and the Boston Blazers was nothing to write home about and in fact, outside of Boston, most everyone would love to block it from their memories. However, while the game itself was awful, the 17,318 fans in attendance still had a lot to cheer about. First off, long-time captain and current assistant coach Rich Kilgour had his number #16 retired prior to the game following an 18-season playing career for the Bandits. The other major thing involved the premier dance team in the NLL. While the Buffalo Bandits lacrosse team started play in 1992, they first brought in a dance team in 2001. At the time, the director and choreographer of the Buffalo Jills put together a squad of dancers from the Jills to perform at the Bandits home games, similar to what they did at Ralph Wilson Stadium at Bills games minus the sideline cheers. Both squads were run together for a few years before separating, with the Bandettes, for a time, even receiving some sponsorship from Entercom communications. While the squads themselves have separated, they've often worked together over the years at appearances, events, and of course the big halftime performance in Toronto this past NFL season.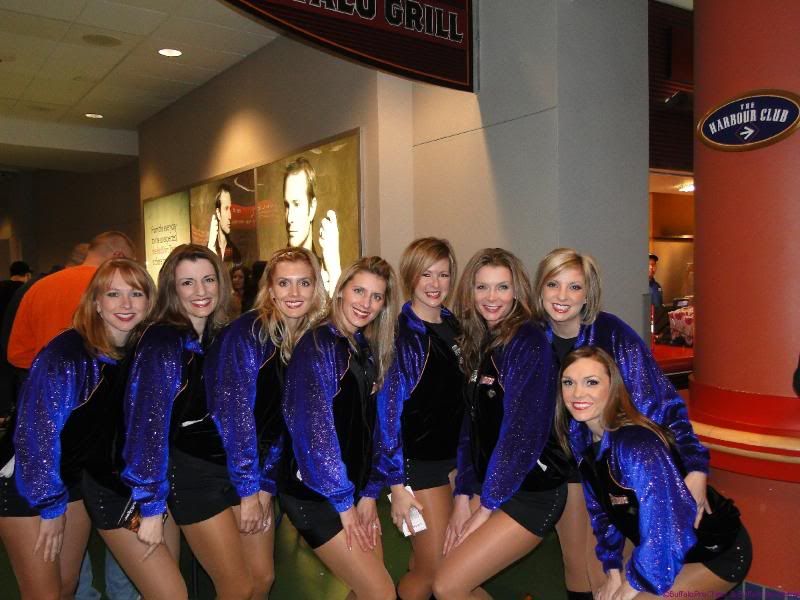 Bandettes alumni on hand for the game (minus Erin J)
With the 10th anniversary of the Bandettes, former Bandette, Bandettes coach, and Jills Pro Bowler Erin J reached out to her former squadmates to bring them together for a reunion performance and all together, 9 Bandettes alumni joined the 12-girl Bandettes squad at the game with a combined performance during 1st intermission before the alumni put on their own performance at halftime.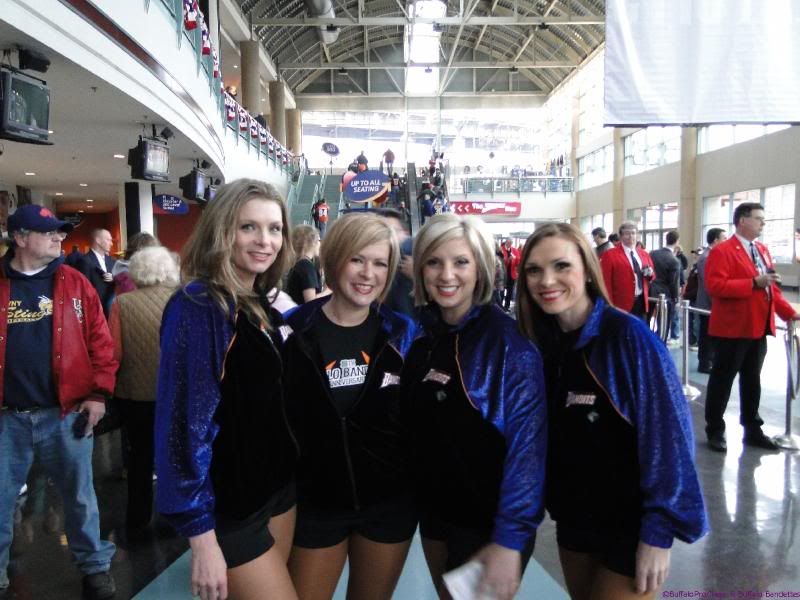 Bandettes alumni Tina, Melanie, Amanda F, and Jenni
Prior to the game, fans coming in got greeted by the alumni handing out collector's cards commemorating Rich Kilgour's career before lining up for autographs outside of the Harbour Club with the current Bandettes squad. Following the game, many of the Bandettes alumni and Bandettes were joined at the postgame party by several more Bandettes alumni from more recent years. See all the pics at
http://s17.photobucket.com/albums/b87/bandettes/2011/Blazers2/
Coming up next, the Bandettes will be back in action for the Bandits season finale on April 23rd as the Rochester Knighthawks come to town. The following weekend, the Bandits host the Blazers again in a 1st rd playoff matchup.